For the record: AppleJack
always
chooses vegetables over desserts! Can you believe this? Also for the record: Pumpkin Spice Roll is
not
heart healthy. It is seldom, rare, almost never when AppleJack asks me to make dessert, pumpkin spice roll is the exception. Mother started making this recipe several years ago
for the Thanksgiving season and her family fell in love with this baked delight. In fact, her most requested dish at Thanksgiving is Pumpkin Spice Roll.
Pumpkin Spice Roll
Cake Ingredients:
3 eggs
1 cup granulated sugar
2/3 cup cooked pumpkin
1 teaspoon of lemon juice
3/4 cup all purpose flour
2 teaspoons cinnamon
1 teaspoon ginger
1/2 teaspoon nutmeg
1 teaspoon salt
1 cup chopped nuts (walnuts or pecans)
Filling Ingredients
1 cup confectioners sugar
6 ounces of cream cheese
4 tablespoons of butter
1/2 teaspoon vanilla
Beat eggs with an electric mixer on high speed for five minutes until thick and lemon colored

While eggs are beating, combine the granulated sugar, cooked pumpkin and lemon juice

Gradually add the sugar/pumpkin mixture to the egg mixture. Set aside

Sift together the flour, baking powder, cinnamon, ginger, nutmeg and salt

Gently fold the dry flour mixture into the egg/pumpkin mixture

Spread batter evenly into a greased and floured 15x10x1 inch jelly roll pan

Spread the nuts evenly over the batter

Bake in a 375 degree oven for 12-15 minutes or until the cake springs back when lightly touched near center

Immediately loosen edge of cake from pan and turn cake out onto a towel sprinkled with confectioners sugar. Roll up towel and cake, starting from one of the cake's short sides.

Cool on a rack. Unroll cake; remove towel, spread cake with filling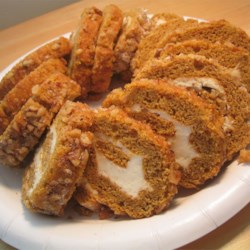 Even if you don't like pumpkin, give this recipe a try--you will be surprised!